CONCEPTUALIZING COLLECTIONS
TAKING A CUE FROM HISTORY
For this year's new collection, I'm exploring an ancient technique: lost wax casting. This process was used to create intricate and symbolic adornments in many ancient cultures including in Egypt, West Africa, India, Greece, Rome, and the Americas.I've been particularly attracted to old coins and hieroglyphic rings.
I. Gold scarab ring/emblem of Hathor, New Kingdom, ca. 1550-1069 BC, Egypt
II. Coin ring, recovered by Capitana crew in Florida shipwreck, ca. 1715
III. Angel holding cross, Byzantine, ca. 500-700 AD
IV. 2 escudos from mints at Bogota, Lima, Mexico & Cusco, ca. 1715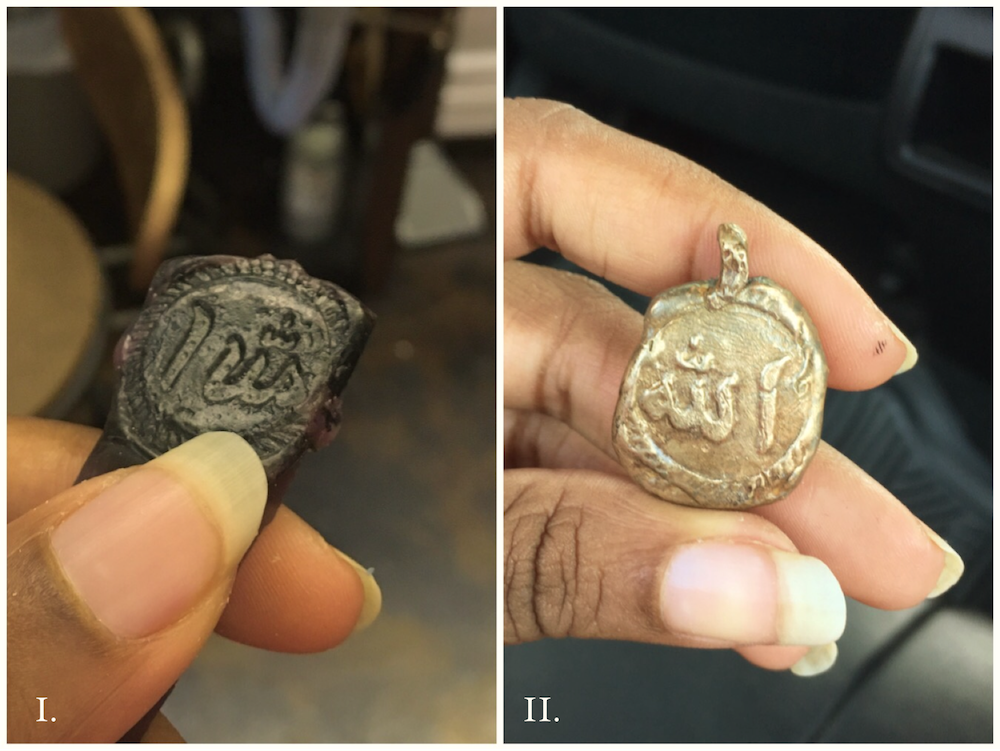 I. I'm working with wax for the first time! This says 'God' in Arabic. I'll use it as a stamp so the script is actually in reverse.
II. Sample necklace pendant (before polishing)
What do you think about this new direction? Leave a comment below! I do respond, I'd love to hear your thoughts!

THE MIND BEHIND THE DESIGNS
A part of my own work towards remaining intentional with Mahnal is asking myself- what do I have to say? What do I want to share?
The answer to that for me was inspiring positive mindsets, but also shedding light on the gentle, insightful, and poetic beauty of Islamic art. Because many of the traditions of the Islamic faith center on living a balanced lifestyle, I took an anthropological approach & began studying more deeply the historic relationship between the art and the act of contemplation. Contemplation as a practice looks a lot like meditation, but you meditate, reflect, and allow thoughts to bloom on a specific concept or idea.
Because anthropomorphic figures are rarely used in Islamic art, ideas are expressed through symbology, geometric forms, atmosphere, and space. With my last collection, Akirah, I took an unintentional step in this direction. Akirah means 'hereafter' or 'what comes next' in Arabic- for me it represents the sweetness of reaching a goal or destination after struggle. These earrings feature 3 tiers of graduating spirals, with the bottom-most housing 7 overlaps. In theology, the number 3 is said to represent trial. In many theological traditions 7 is a significant number representing the day of rest (Sunday), 7 chakras, 7 colors of the rainbow, notes a musical scale, 7 deadly sins (or carnal states to tame/master), and 7 heavens. The common denominator I've perceived here are states of being with 7 being a representation of completion or completeness. This number was the perfect numerical expression (in my mind) of 'akirah'.
In the free Mid-Year Refresh Worksheet I include a thought: 'the reward lives within the challenge'. With this in mind, trial and challenge becomes valuable- even needed. Struggle contains the seed to our success, our 'akirah'.
It is my hope to imbue each piece of jewelry going forward with message of positivity and encouragement. Something wearable in which its features unravel and unfold a story for contemplation. I wrote more here than I intended (and cut some things out). But if you enjoyed reading this, perhaps I will continue to include these notes in seasonal round-ups or more regularly in the journal...
Was this interesting for you? Let me know and thanks for making it this far!